Even the most successful entrepreneurs occasionally find running a business more challenging than they expected. Many entrepreneurs work longer hours and get less return on their investment of time and money than they would like. Most entrepreneurs regularly grapple with one or more challenges.
If you're looking for specific ways to help your business succeed, we can provide help in a bunch of ways:
Get your free copy of Get A Grip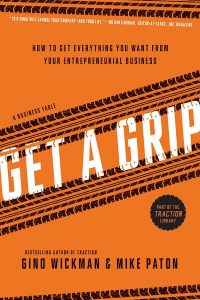 The story of how a business resolves its issues by implementing the Entrepreneurial Operating System®. With the help of EOS, their leadership team masters a set of managerial tools that allow them to get traction on their business, grow the business, and deliver better results for clients.
Give Your Leadership Team a Complete Overview of EOS®
The 90-Minute Meeting paints a clear picture of the Entrepreneurial Operating System® to help you decide whether it's right for you. There's no better way to tell if EOS is a fit for your business – and there's no obligation.
Whether or not you intend to hire a professional to help you, this is a critical step to determining whether to move forward with implementing EOS in your business.
Help Finding an EOS® Implementer in Your Area
I can assist you in finding the right EOS professional in your area for your business, this is an important step in moving forward with implementing EOS in your business.
Help Finding a Speaker/Presenter
We can find speakers and presenters that will move your business forward with implementation of EOS.